It's been a while since I last did a Wedding Spot post, so here is a bit on my most recent DIY.
Maybe a month and a half ago, I was walking around the wedding section of my local craft store and stopped to look at the flower girl baskets and ring bearer pillows. Needless to say, they were rather expensive... and nondescript... blah. So off to the Goodwill I went to find supplies to DIY these things.
Tonight I'll be talking about the Ring Pillow. I first decided I wanted to DIY this after seeing these on pinterest.
I initially tried to crochet a doily with a clover pattern, but that didn't happen... at... all. After that, I started looking at fabric ring pillows. My first try was really crappy. The idea of it was nice, satiny fabric with a ribbon trim. Sounds lovely right? In reality... it was more like a wonky marshmallow with the middle poked in... -___-
The next plan was to use felt. My best friend brought the idea of felt flowers to my attention a while ago and I absolutely loved them :) So I figured that if we all have felt bouquets and boutonnieres adding other felt touches would be a great idea. Oddly, when I started making the felt pillow, I fell into a flow and it just came together. Yay me!
Materials
2 pieces of felt
Fiberfill pillow stuffing
Green thread
Green embroidery thread
Embroidery needle
Thin green ribbon
Shamrock patterns large and small
Letter patterns
Tissue paper
Scissors
Sewing machine or sewing needle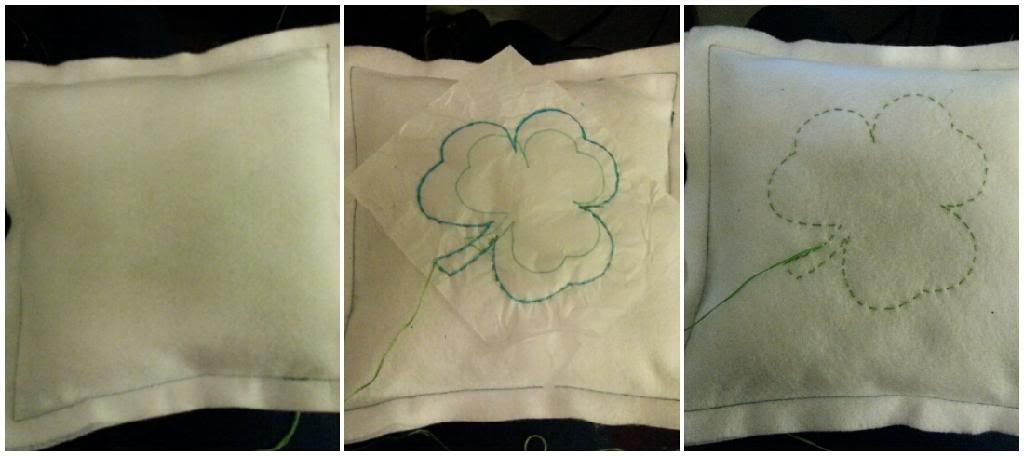 1. 2. 3.
Step 1:
Cut felt into two squares. Sew together leaving a space to stuff pillow. After stuffing, sew hole closed.
Steps 2-3:
Trace large shamrock shape onto a piece of tissue paper & pin to top of pillow. Using the green embroidery thread, do a running stitch around the outline. After going all the way around the design, remove the tissue paper.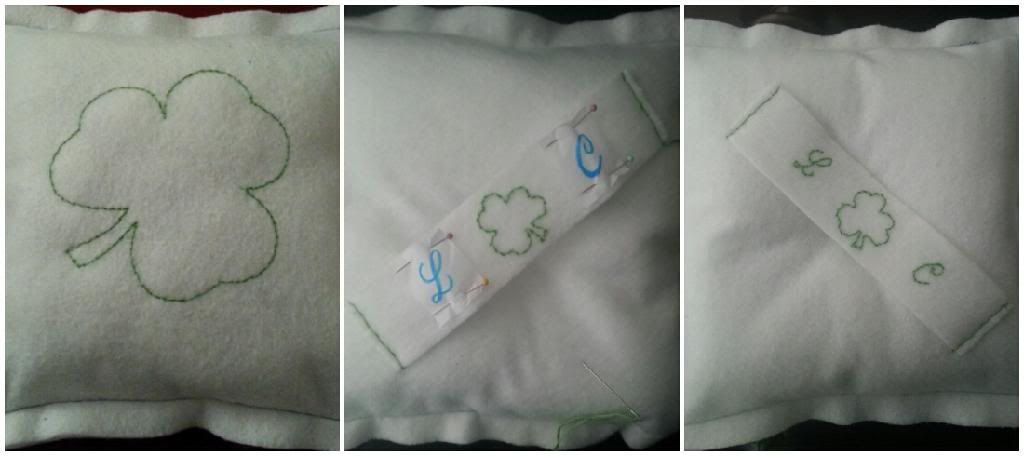 4. 5. 6.
Step 4:
Continue stitching around the shamrock shape with a running stitch between the stitches of the previous round. I suppose you can also use a backstitch to begin with but I'm a new-be at embroidery. So use whatever stitch you're comfortable with.
Step 5:
Using one of the felt scraps sew a handle on the back of your pillow. Trace the small shamrock and initials onto tissue paper and pin to the handle. Stitch the designs just as you did for the large shamrock.
Step 6:
Cut a length of ribbon (enough to make a pretty bow around the rings). Make a couple stitches through the middle of the shamrock. Pull them tight to make a little dip. Sew on the ribbon.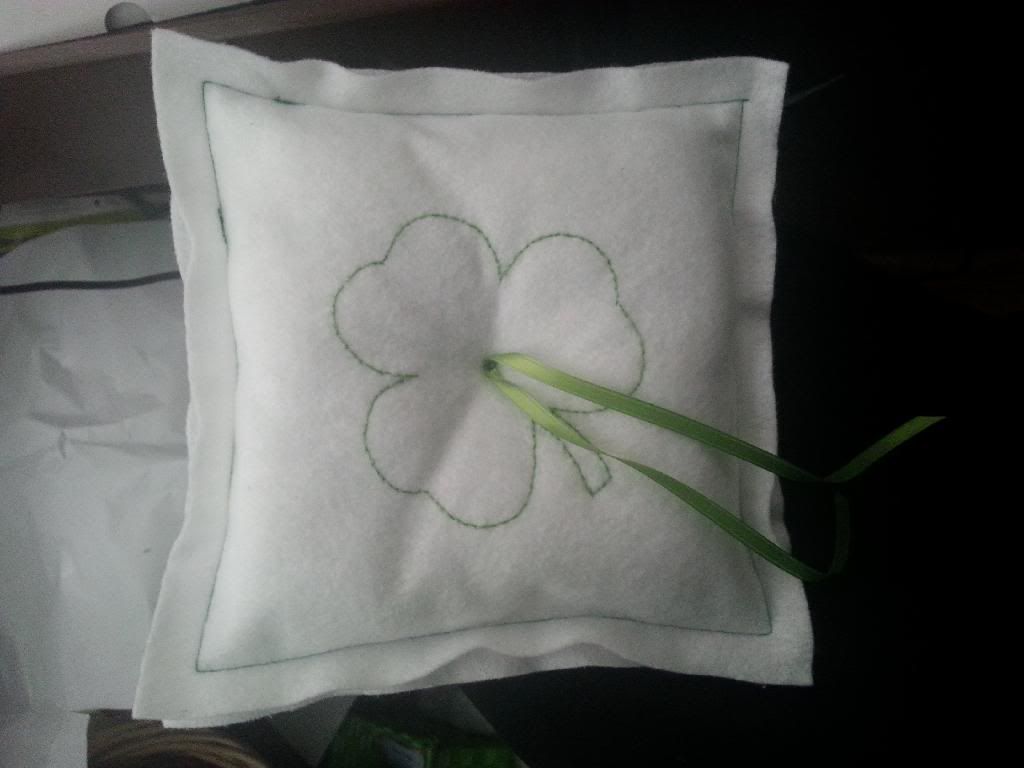 Ta Da!!!!
Step 7:
Step back and admire your awesome craftiness!
There we go! I'm super proud of myself for making this! It's so cute and so me ^.^ Now I just have to settle on how I want the flower girl basket to look... :)