We had an Art&Soul (poetry club) weekend at the apt this weekend. It was all chill time, creative time, get to know your family time, and foodie time. Sabbath we initially were going to go up to Green Mountain, but when everyone woke up we slowly started talking about our favorite poets and then listening to said poets. With the poetry filling the atmosphere, it was only a matter of time before we all got writing or something. It actually turned into a craftermorning/crafternoon. We had the pull-out bed out and it was
covered
with jewelry makings and beads and yarn. It was a lovely crafty cacophony of awesomeness. I snapped some pictures in between working on a scarf. So here they be:
It's been a while since the group has gotten together to just hang out. Normally it's a business meeting or getting ready for a show or something like that. So it's really good for the fam to get to spend chill time with each other and strengthen the friendships within.
In the first picture, I'm working on a scarf for myself. Originally it was suppose to be an offset cable scarf, but I didn't like how it was working up so I frogged it and reworked it into a granny stripe (my favorite scarf makin' pattern ever!)
The cable idea. To be recreated at a later time.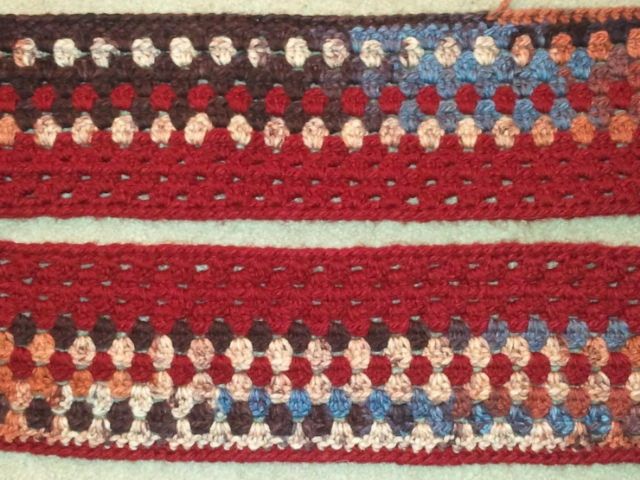 Frogged & Reborn. It's like 5+ feet long I think...o.o
The yarn I used for the scarf is one I haven't used in the past. I really only picked it up because it was on sale for $1.99 and it's normally priced at $4.49. So I feel like this was the best time to try it out. And it's so soft! It's one of those yarns that feels different in a ball than it does worked up. So of course, I went back to Michaels and picked up a few more balls before the sale ended, and super lucky me, the cashier told me about a 25% off coupon that applied to sale items too! Wins for me! Now my Art&Soul friends are saying that I'm a yarn hoarder and that I have an addiction. I beg to differ. I use the yarn. So it's not hoarded. It's a craft stash and I'm perfectly fine with non-crafters and occasional crafters who don't understand the purpose of a "
stash
". Now just to drive my point home- yes, I got six more balls of that yarn; no, I don't have a project immediately in mind; yes, I'm glad I bought them. Why? Because I paid $9.67 for $29.10 worth of yarn.
You saved $19.43!
Anywho, I got a bright sunny yellow and white. I want to do chevrons. I didn't get enough for a blanket... and I don't want it to be a chevron scarf... Any suggestions?
Also, I've been fiddling around with my blog design and whatnot... do you think my pictures are too big?