Hey there :)
Wow... I haven't writing anything on here in more than a week... I'm sorry. Work has been getting consistently more
unsatisfying
so yeah... I've had to have some convos with my supervisor regarding appearance and dress code and what not. Today I spoke with her regarding my hair. Being natural in itself gets so many mixed responses depending on preferences, but it's become decidedly more concentrated in certain environments. I don't want to feel uncomfortable with my hair at work because of the preference held by my supervisor or anyone else. I read her the appearance guidelines from the staff handbook and pretty much left it at "if I contradict
this
please correct me. Otherwise, leave personal preference out." She said that she just wants everyone to be "neat." So we're going to have another sit down on Friday to discuss what she means by neat and how we can both feel comfortable at work. (Because I am going to wear my hair out... that's just it...)
Anywho... I didn't plan on going into all that, but that's what's going on in my life these days... just being Caleisha, ambassador for the Natural Hair Staff Members of Oakwood University...
What have I been doing crochet-wise? Slowly finishing up holiday gifts... and picking up other projects along the way. I have a HUGE project pending for my aunt that I'm excited about and really nervous at the same time... But I'll talk about that when I get it underway.
My personal little project is a Hexagon Motif Bag. I found the pattern today and thought it would make an awesome polka-dot bag.
Here's the pattern
. It's actually a list of crochet-a-long videos explaining how to make the bag. But it's so cute! I'm using some christmas yarn I got on sale from walmart. They were 75% off so they cost me $0.85 per ball. I picked up 4 red & 4 white. I was going to get green, but I have enough green yarn. So my Hex Bag is going to be made up of motifs like this: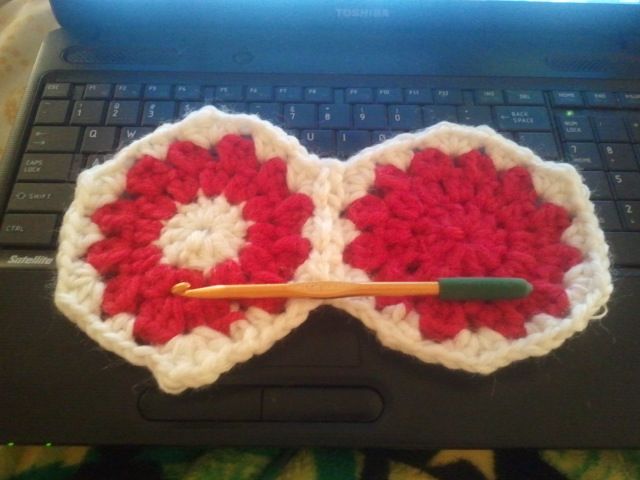 The pattern calls for 26 hexagons, but I'm not sure if I'll have enough yarn, so I'm already creating some mods just in case I have to reconfigure them. The yarn I'm using is Bernat Icicle Holidays and I'm glad I didn't pay a lot for it. It's super splitty and it untwists while I'm crocheting. I'm def going to use up all of the yarn on this bag just to be rid of it. :( I hate it when I dislike a yarn so much...
I also did a bit of yarn stashing in addition to that balls from walmart. I took a trip to Joann's because recently they had a 25% off your total purchase coupon and of course I couldn't let that go to waste. Now in store, all the yarn is 25% off, but online it's from 30%-50% off the same products... I asked one of the salespeople if they pricematch online prices and she said yes. So I was able to get a bunch of yarn (mostly types I've been wanting to try out) for the online prices and then put my 25% off coupon on top. These are all the yarns I got (just without the Bernat that I already told you about)
There's Patons Silk Bamboo in a deep purple (I'm making socks, one pair crochet/ one pair knit -
determined-
), Lion Brand Organic Cotton in creme and mustard (not sure project wise, but it's very soft and squishy... maybe a hat), Caron Sheep-ish in cream, yellow, & lime (again not sure of the project), Red Heart Eco-Ways in blue and green (I was drawn to the blue color first and grabbed the green to offset it. That blue is GORGEOUS). So yeah, I'm not allowed to buy any more yarn until I use out all of this and a good chunk of the shelves and shelves of yarn already chilling in my stash.
This is long enough... Good night!