Hey there :)
Happy Sunday! I hope you all enjoyed the time change. I def woke up in a panic at what I thought was 9 o'clock this morning. Not.Pleasant. Anywho, onward!
From the beginning, I knew that I wanted to have various DIY touches in our wedding. One of the "easiest" places to do a lil DIYing is with the save the dates. A couple of months ago, Lamar and I had engagement pictures done at JCP that I spent hours pre-planning the session, picking outfits, doing hair, and making props. I'm glad to say that I'm super happy with how they turned out. I knew I wanted to use some of the photos as our save the dates and Lamar suggested we make them into magnets. (He so smaaht!) Then the search for the least expensive way to make that idea a reality began.
I browsed many a 'create your own magnet' website, but was routinely let down by prices over $100. So I sadly scrapped the idea of having them printed as magnets & started fleshing out how to print them as regular photos and somehow
make
them magnets myself.
First thought:
Magnetic tape on the back... too cheap looking...
Second thought:
Adhesive magnetic paper... WAY too expensive...
Third thought:
Magnetic printer paper and rubber cement... Jackpot!
So with my idea having an actual plan, I looked for coupons for printing the 4x6s and found one for $0.10 each at Walgreens & purchased a small pack of magnetic paper from Staples.
It took a little research to figure out how t do a permanent pond with rubber cement, but once I got it down, I whipped up magnets using all the paper I had. Seeing how awesomely the test magnets came out gave me confidence to go ahead & get the bulk amount of magnetic paper. I told Lamar about my magnetic paper search and he was able to find cheap rolls of magnetic paper sheet. o.O Why I couldn't find it? I'll never know. So in the coming weeks there will be lots of rubber cementing and cutting at my house!
I am really glad I decided to go the DIY route rather than choosing a ready-made design from a website. I think they will make my family and friends smile since they all know I'm rather crafty :) In total, all supplies considered, our save the date magnets cost us less than $0.60 each. Pretty cool right! It's very gratifying to be able to say
"I made that!"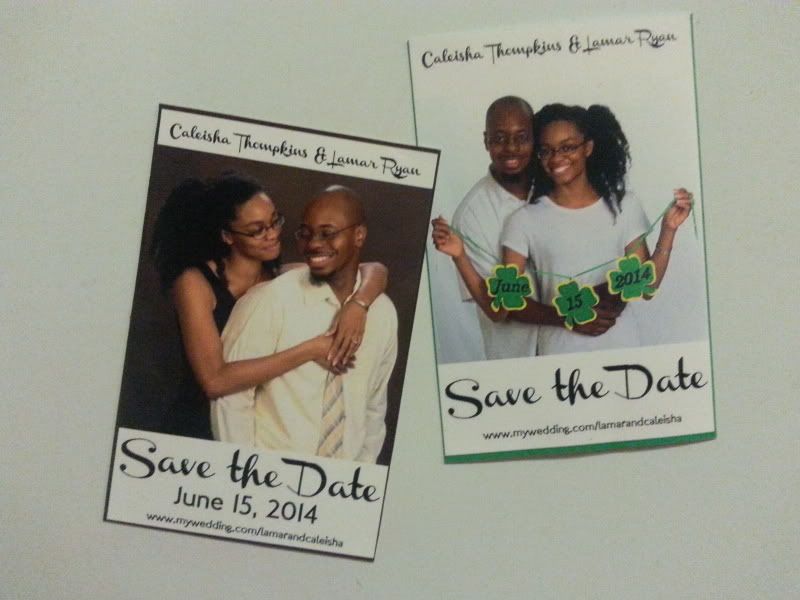 Our two designs :)
Anywho, have a good night. I'm gonna go pass out as my body feels like its past 11pm.
(I'll post the actual DIY steps later on this week.)