Good morning :)
I hope you had a fun and safe 4th of July holiday. I pretty much spent mine inside crocheting all day.
(I'm such an old lady sometimes!)
Anywho, I was planning to write this post last night before bed, but after all the hook work and the heat
(my AC is still waiting to be fixed...)
I just went to sleep.
So, here is my belated What's on My Hook.
I spent the day working on a flat bottom granny stripe bag. The majority of the yarn is wool throughout except for the stripes, they're acrylic. I used Lion Brand Fisherman Wool, Paton's Classic Wool (both dark brown), Red Heart Fire Red, & Red Heart Gold. The lining is yellow cotton with a cardboard insert for stability.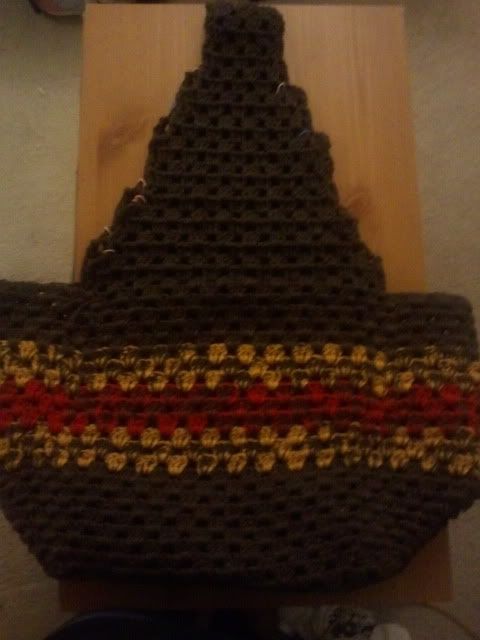 Quick pic I snapped last night.
The lining
I carried 2 strands of yarn throughout. I like the textured effect it made on the stripes. Although, it did make the bag HUGE. The bottom of the bag is 9"x12" and the sides are 13" tall...
The only things left to do before the bag is totally finished are to sew in the lining and put an edging around the strap. I don't like how clearly you can see the decreases. But yeah, this was my 4th of July project and I crocheted until my fingers were cramped and my hands hurt. That's dedication. lol.
Now, as much as I like this design and the size of this bag, I think it may be a little impractical, but I'm still going to use it. Maybe as a weekend bag or a shopping bag. What do you think??