Hello there :)
Today is day two of Caleisha as the
account-mutant
(if you dont understand, you should watch Mr. Magorium's Wonder Emporium). I'm still buried beneath a ton of paperwork, but I'm still enjoying the challenge of learning a new thing.
I feel like my eyes have been reopened to Oakwood. Like I am seeing all the things I loved about this place again... they had gotten so skewed and foggy because of where I was. I'm remembering how great it is to be able to begin the work day with a group worship, to hear someone praying with a coworker as I walk to the time clock, or to get a 'have a blessed day' goodbye on the phone. These are the things I love most about this place. I'm so glad that my cloudiness has been shaken so they're visible again.
I'm feeling very peaceful... even in the midst of the actual chaos of being in an unfamiliar situation/job. I've found myself really appreciating the huge glass door that takes up the back wall of this office. I have a great view of the trees on the inside of OU campus. Theyre like a constant source of calm each time I look over my shoulder. Plus, my Melody Gardot Pandora station is so wonderful. I haven't listened to it in quite a long time, since there were so many restrictions in my old office.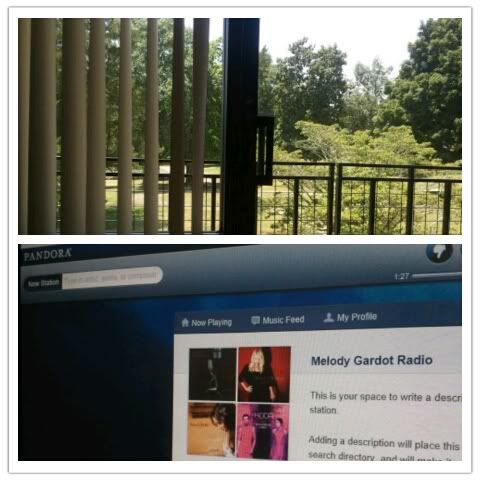 On my lunch break... I'm loving this right now.
I was thinking about Mr. Magorium's Wonder Emporium and I really think I'm going to watch that after work today. It is such a purposeful movie- completely full of those
'follow your heart'
sentiments and
'appreciate each moment'
thoughts. My favorite quote from the movie is:
"37 seconds... We breathe. We pulse. We regenerate. Our hearts beat. Our minds create. Our souls ingest. 37 seconds, well used, is a lifetime."
It makes me think, when was the last time I just enjoyed 37 seconds? Enough writing about it. I'm going to go now & enjoy the rest of my lunch break. :)
Peace.