Hi there :)
This
Not So Blue Monday
started off with me waking up anxious, nervous, nauseous, and dragging my feet into the office.
Now how does this beginning still count as a NSB Monday? It's because this day was honestly riddled with good things. Let's count them down :)
(1)
I turned in two applications for jobs at Oakwood. The hardest part about knowing that your current job is ending in less than a week, is trusting that God will move in His time. I spoke to both departments with positions to be filled and hopefully one will come through for me much sooner rather than later... One is a job I
can
do and one with a job that I
want
to do... Oh yeah, I practically burst into tears while talking with the director of the PR department where I want to work... She said it's ok and shows my passion.
(2)
After work, Cherie & John picked me up and we all went to see the 911 Reporters downtown in the park. The concert was awesome & I got a bunch of really fun shots.
The audience
911 Reporters at Concerts in the Park
I loved how these little girls were dancing together. Kids are awesome!
(3)
I finished spinning the pink roving last evening & soaked/hung it overnight. So this evening, I plied the brown I spun with the pink. It looks nice & I discovered plying is much easier than spinning since there's no drafting :) I'm calling it 'Strawberry Quick.' I don't think I have enough to really make anything of substance, but it's my first handspun & plied yarn! Hurray!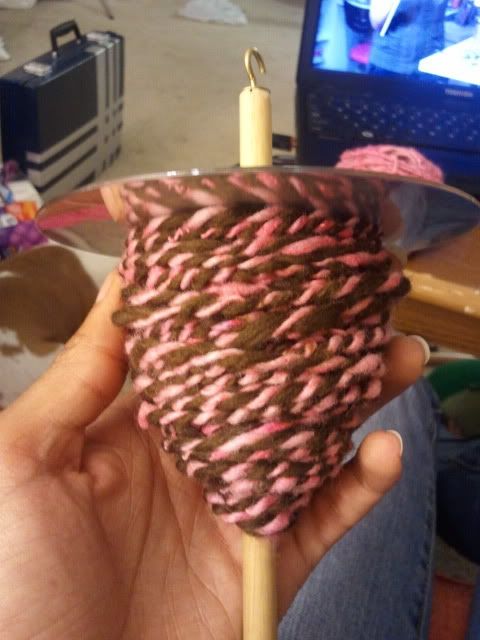 (4)
Doggy cuddles... My dogs decided that I was spending too much time working on my yarn and writing, so they pulled a hostile takeover of my roving and lap.
Toot says, "Pay attention to meee! Look I can spin it too!"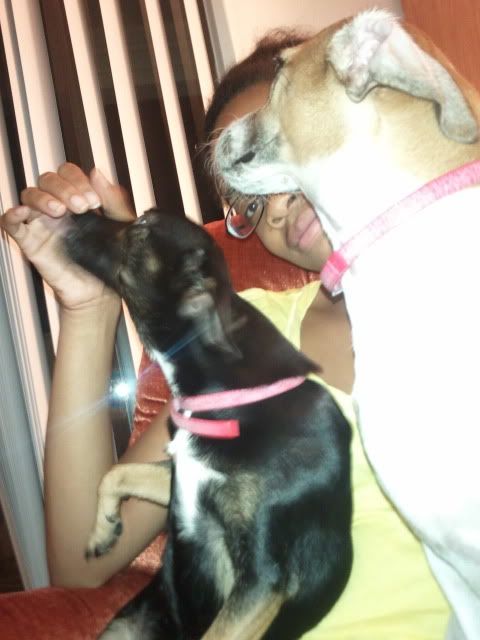 This is us not caring about what you though you were doing. Your lap is ours!
All in all, it ended up being a pleasant day despite the shaky ground it began with. I hope you had a nice Monday.