Hi there =)
I am writing from Books-A-Million where I've been crocheting for about 2 hours now. Just me and youtube crocheting butterflies for brooches. (They're soo cute ^.^)
I thought I was going to feel a little weird crocheting in the Joe Muggs cafe', but compared to the 3 guys loudly playing Dungeons and Dragons, I was a crafty angel.
[Side note: there was an older guy reading at the next table & when the D&D guys got particularly loud he looked at me with a very agitated expression. I smiled a sorry/embarrassed for them smile and went back to my work... I hope he didn't expect me to say anything to them. Stranger=Danger, lol]
So back to my butterflies, I made 2 of each rainbow color + white & pink. I'm quite proud of them. When I get home I'll be putting the brooch backs on. Then I'm going to make some little bow brooches as well. I'm going to use Friday afternoons to make product for the Etsy shop. Since I think I work better with specific goals for each work period.
On crocheting in public, I'd forgotten how nice it is to crochet from somewhere that isn't my bed or sofa. Maybe I'll make a habit of this. :-)
I hope you are having a good Friday and it leads into a great weekend. Bye!
----------------EDIT-----------------
My phone died at BAM so I couldn't upload the photos I took of the work in progress. So here they are now:
Bag o' yarn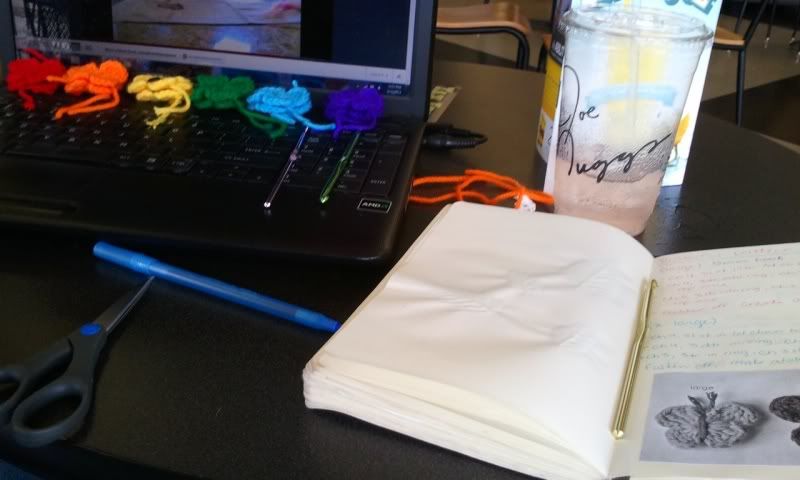 Workspace